This Session Guitarist Was Just Inducted Into The Rock and Roll Hall of Fame
His name might ring a bell…
Apart from the fuzzy video quality the guitarist in this video is completely unrecognizable. In 1982, the rock group Scandal had just released a music video for their hit "Goodbye To You." Patty Smyth is on vocals and guitarist Zack Smith sings along with her. The video itself is quite simple and features mostly just Patty singing in a dark room with the band. The session guitarist employed for the video was a completely unknown at the time– Jon Bon Jovi. He looks purposely dejected into the background since he's not actually part of the band yet.
You can capture a glimpse of him and his white guitar behind Patty in the opening scene…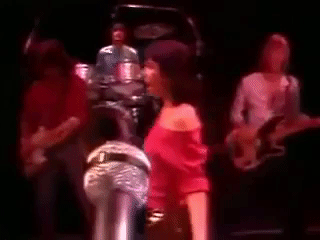 Who Woulda' Thought
Jon Bon Jovi did officially join Scandal for a short period in 1983 as a rhythm guitarist. He left before they released their biggest hit, "Warrior." Out of everyone recorded in the music video for "Goodbye To You," Jon has the least amount of camera time. You can only make him out by his shoulder shimmy and totally '80s frizzy mullet. Fast forward 36 years later to April 2018… Jon Bon Jovi is inducted into the Rock and Roll Hall of Fame.