Jimi Hendrix's 'Electric Ladyland' Reissue Is A Next Level Masterpiece
GERMANY - MARCH 01: Photo of JIMI HENDRIX EXPERIENCE and Jimi HENDRIX; L-R Mitch Mitchell, Jimi Hendrix, Noel Redding - Jimi Hendrix Experience - posed, group shot (Photo by K & K Ulf Kruger OHG/Redferns)
The Magic Carpet Waits For You
Originally released in 1968, Electric Ladyland, became an instant classic… eventually one of the best works of music to be created. The Jimi Hendrix Experience left an imprint on the world as prolific as Neil Armstrong's boot on the moon. Electric Ladyland was significant in Hendrix's career not just from a Billboard standpoint but as a musician. He finally had full reigns of his music and was able to showcase the creative virtuoso that he was.
Nearly 50 years after it's release, Electric Ladyland will be reissued by the power team Legacy Recording, Sony Music, and Experience Hendrix LLC. The double album will be sold as a box set with features that could not have been possible in 1968. The album's engineer, Bernie Grundman, used the original two-track master analog tapes to create an audiophile-quality production for the 2019 release.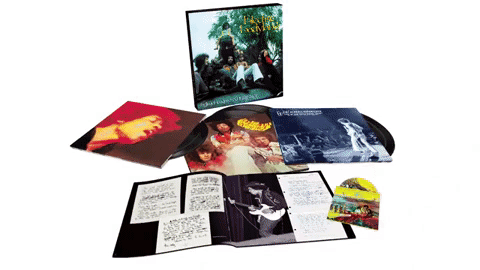 Within the box set is a second double-disc, At Last… The Beginning: The Making of Electric Ladyland: The Early Takes. That album will include the earliest demos put together by Hendrix in his apartment. As far as studio outtakes, expect "Voodoo Chile," "Long Hot Summer Night," "Little Miss Strange," "1983… (A Merman I Should Turn To Be)," and "Rainy Day, Dream Away." Some more staples are "Angel,""Cherokee Mist," "Hear My Train A' Comin," "My Friend," and other early hits.
The gorgeous reissue is available in a 3 CD set and vinyl. One of the gems in the set is the stunning documentary that has interviews from Experience bandmates, producers, and in-studio footage with engineers. Another favorite of hardcore Hendrix fans is the September 14th Hollywood Bowl show with Vanilla Fudge and Soft Machine. That performance is on another double disc, also included in the Electric Ladyland reissue.
Within the 48 page booklet in the Electric Ladyland Deluxe Edition, you'll read full-color copies of original hand written notes by Jimi Hendrix. The booklet also poems and detailed directions to the record company regarding the album's design. The box set wouldn't be complete with a treasure of previously un-published photos from studio and jam sessions. Theres also liner notes from journalist David Fricke for an insider's view on the the daily events leading up to the album's release.
You can find the Electric Ladyland 50th Anniversary Deluxe Edition, here– as well as taking a peak at the official track lists included in the enormous reissue.