Peter Gabriel's "Solsbury Hill" On A Bike Was His Best Live Performance
YouTube / treasurehd
Boom, Boom, Boom
This song can probably serve as an anti-depressant. With its feel good upbeat tempo and Peter Gabriel's smooth clear voice, "Solsbury Hill" is a dream. It almost makes you want to jump on a bicycle and go for a ride…which is exactly what Peter Gabriel did.
"Solsbury Hill" was released in 1977 as Gabriel's first solo song after departing as lead singer of Genesis. The singer has commented that he even considered not including it on the album Peter Gabriel due to pressure he faced as a solo artist. He built the song around a riff and toned it way down from his work with Genesis. This was Peter Gabriel's moment to shine.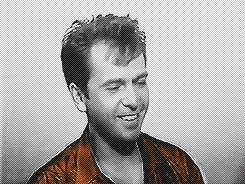 Turning water into wine
Open doors would soon be shut
So I went from day to day
Though my life was in a rut
Till I thought of what I'd say
And which connection I should cut
I was feeling part of the scenery
I walked right out of the machinery
My heart going boom, boom, boom
Son, he said, grab your things I've come to take you home
Oddly, the song didn't reach high in the charts but had a resounding success with fans- who loved it. Bob Ezrin produced the album and had previously worked with Alice Cooper and had worked on Pink Floyd's The Wall. "Solsbury Hill" was also never over-played on radio stations, giving it a special quality that many popular songs lack- a happy vibe. If you haven't heard it in a while, you're always happy to hear "Solsbury Hill" pop up.
"That 7/4 rhythm works well because it feels like a normal rhythm but isn't quite right. It's not like a clever rhythm, just a bit odd. It'll be interesting to see how people dance to it," Peter Gabriel told Sound Magazine, regarding the unique time signature.
Watch Peter perform one of the happiest songs he ever wrote! Makes it that much better that he's riding a chrome Moulton on a revolving stage. At the time (2003) he was performing on the Growing Up tour. This wasn't his first, last or wildest on-stage stint but definitely the happiest! The song proved to be his anthem for self- empowerment and destiny.
You go, Peter!