The Yes Album Turns 48 And Still Holds It's Prog Rock Icon Status
Facebook / Yes
Atlantic Records
The eponymously named record by the English progressive rock band, Yes set the tone for experimental rock n' roll. The idea was still fairly new and bands were discovering innovative ways of twisting sounds and lyricism. The Yes Album was released by Atlantic Records on February 19, 1971.  Jon Anderson's vocals were paired with Chris Squire's and Steve Howe's to create some trippy harmony singing.  The heavy use of the moog/ piano/ organ combo by Tony Kaye is what set the record apart.
The album turned into a major success. The Yes Album broke onto the Billboard charts at #4 in the UK and #40 in the US. The Yes sound was also heavily influenced by Steve Howe who played electric and acoustic compositions on the album. He also introduced instruments like the vachalia– which played well into the prog rock experimental vibe.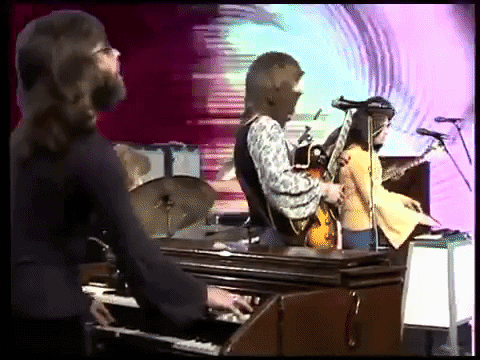 In November of 1970, the band was returning from performing in Basingstoke and was involved in a car crash. Tony Kaye broke his foot and that's the story behind the album's cover! Kaye left the group during the recording of the record due to musical differences with the band, including not wanting to rely on synthesizers. Rick Wakeman took over when Kaye departed. Wakeman would go on to become an integral part of Yes as a talented keyboardist and songwriter.
There wasn't a long track list on The Yes Album. The introduction of longer songs was starting to become a staple in progressive rock. So, the lack of tracks was made up in the length of the songs. The most notable of tracks off the album would be "All Good People," which is made up of 2 parts but usually played as one song. Anderson was inspired by a game of chess when he wrote the "Your Move" half. Bassist Chris Squire wrote the "All Good People" half.
"Life is a game of strategically placed situations presented to you, and you have to learn to live with them and work with them," he said. "Doors are open and sometimes they're closed. It's the idea that we are surrounded by a spirit or god or energy is in time with our understanding of who we are," contextualized Jon Anderson about "All Good People."
— And that sums up what progressive rock is all about… a strategically composed piece of music that encompasses lengthy compositions and the fusion of jazz, rock, and classical music.