Roy Orbison and Johnny Cash "Oh, Pretty Woman" Duet Is Golden
YouTube / Roy Orbison
Mercy!
Johnny Cash and Roy Orbison were long time friends. They were actually neighbors in Memphis for a long time. Orbison suffered years of tragedy between losing his wife in a tragic motorcycle accident, and then his first sons in a house fire. Johnny Cash suffered his fair share of unfortunate family tragedy as well.  He felt a relatable sympathy for Roy Orbison.
Cash would visit Roy at his parent's house when he became a recluse- after the losses. Cash was a true friend true and through. Eventually, "The Man In Black" would end up buying the lot of where Roy's home burned down- he planted orchards in it's place.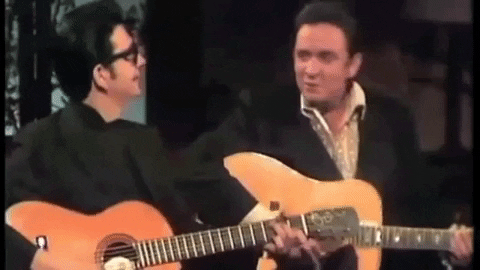 Roy Orbison and Johnny Cash worked together often. Both musicians were talented and legendary songwriters that crossed genres between Gospel, Rock, and Country and both were inducted to into multiple Hall of Fames. They went on to become the most revered artists in history.
They had originally met at Sun Records in Memphis, Tennessee on Roy's radio show. They made up the class of 1955 along with Carl Perkins and Jerry Lee Lewis.
Roy Orbison's Facebook gave tribute to his dear friend on his birthday:
When Cash started broadcasting The Johnny Cash Show in the late 1960s, Orbison would be a guest often. Here, the best friends cover Orbison's "Oh, Pretty Woman" on Cash's show in 1969.
"Hey, that's my line!" you can hear Johnny Cash mess around with the reserved Roy Orbison on the stage for their duet. 
Roy Orbison suffered from stage fright most of his career, something Cash was and most of his contemporaries were aware of. You can see the brotherly camaraderie between the two as Cash tries to ease up Orbison.