Nicholson's Reaction to Stanton and Garfunkel Singing is Priceless
YouTube / Simon and Garfunkel News
A Toast Made for Hollywood
The 22nd American Film Institute was dedicated to  legendary actor, Jack Nicholson. The attendees included Bette Midler, Bob Dylan, Danny DeVito, Michael Douglas, Sean Penn, Dustin Hoffman… and just about every star of 1994. Among the invited was Harry Dean Stanton, Nicholson's close and life-long friend. Stanton was beyond honored to give yet another toast for his dear friend. The speech was among the most memorable of the night.
"I met Jack in mid 60s… I thought here's a good American boy with no overt signs of talent. When he got married, I was the best man at his wedding- and at his divorce." states Stanton.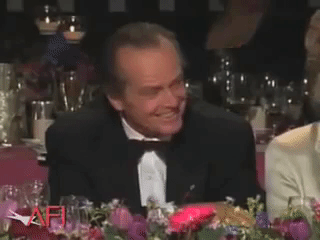 As Stanton wraps up his endearing toast, Nicholson and the audience roar in laughter.
All I Have To Do Is Dream
Upon Jack Nicholson's request, Stanton calls Art Garfunkel out of the crowd to cover an Everly Brother's classic. Garfunkel grabs his glass and walks over to Stanton. As the musician approaches, Stanton pulls out a harmonica from inside his jacket.  Immediately, the pair start their duet. An enthused Jack Nicholson reacts as genuinely as possible to the pair's off key rendition of "All I Have to Do Is Dream."
"This can either be a nightmare or we might bring it off. I don't know," Stanton tells the audience.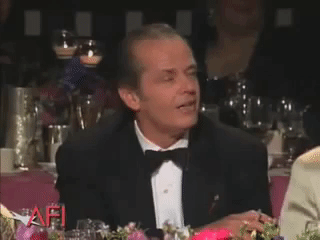 Creme de La Creme
This is definitely one of those once in a lifetime moments- on an A lister level. Every person in each frame is an icon. Bob Dylan chews gum behind Stanton and Garfunkel as they sing. Meryl Streep watches on next to Bette Midler. The room is filled with magic. Just when you think things can't possibly become more epic- they do. Once Stanton and Garfunkel reach the bridge of "All You Have to Do Is Dream," the entire room starts to sing along. The tune becomes an anthem for the night.