Mountain's "Mississippi Queen" Live – More Cowbell Please
YouTube / 59FoxDen
Boy, I Beg Your Pardon
Let's get this out of the way first, "Mississippi Queen" was recorded six years before Blue Oyster Cult's "(Don't Fear) The Reaper." Mountain had recorded their  cowbell laden rock anthem on their debut album Climbing! in 1970.  Both bands were also from New York City but there was one heavy distinction between the two legendary groups.
Blue Oyster Cult had a fanbase that was more keen on the heavy metal depth of the 70s and at times would vibe with pseudo intellectual qualities. Mountain was less heavy metal and more heavy rock with over-amped blues. They created a bombastic sound at times similar to their British contemporaries, Cream- which made sense since their bassist had produced some of their albums.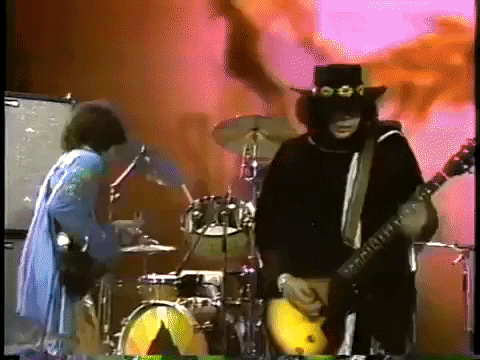 Mountain's guitarist has outwardly spoken about "Mississippi Queen" and its exact creation:
 "When Corky (Laing, drummer) brought me the idea, it was a one-chord dance song. We got real high, took out a napkin, and I came up with the main riff and the chords. Then we fit the words over the sound. I was madly in love with The Band, and I decided to put a 'Cripple Creek' feel behind it. Later on, I told Levon Helm that I felt bad about ripping him off, but he said that he didn't hear any similarity between the 2 songs, and that we didn't owe them any money!"
 Despite its title and the success of "Proud Mary" the previous year, the song itself is about a seductive woman who gives the singer a course on the game of love- the song is not about a riverboat. Although, in 1976 the Delta Queen Company did name a riverboat "Mississippi Queen!"
About That Cowbell…
Drummer Corky Laing recalls a hot and sweaty summer night in 1969 during a gig in Nantucket. He spotted a sultry southern girl in a transparent dress whom he wanted to keep dancing. At that time he was with his previous band, Energy, and not yet in Mountain.
Corky recalls,
"I just had to keep this chick dancing, I was so turned on by her. But in screaming so loudly for so long I gave myself chronic laryngitis and screwed up my voice forever," on singing 'Mississippi queen, do you know what I mean?'  while hitting a cowbell for an hour.
Meanwhile Leslie West remembers,
"The cowbell in the beginning was just in there because Felix wanted Corky to count the song off. So we used the cowbell to count it off – it wasn't put in there on purpose. And it became the quintessential cowbell song," Leslie West has stated.
Drummer Corky admits to being naive to the music world and allowing the production team to take the full credits to "Mississippi Queen" and says,
"When Felix claimed to have helped me write the song, I just told him to go ahead and do what he thought was fair. He was the band's producer, publisher, leader… everything. I was still a mere baby."
Regardless of the detailed history, "Mississippi Queen's" cowbell chorus is that of rock roots. It was one of the first songs to prove that the cowbell isn't just percussionists play thing, it's a hard rock power player. Originality trumps over all and Mountain's southern inspired cowbell canticle rules! 
Mississippi Queen
You know what I mean
Mississippi Queen
She taught me everything
Went down around Vicksburg
Around Louisiana way
Where lived the Cajun Lady
Aboard the Mississippi Queen
You know she was a dancer
She moved better on wine
While the rest of them dudes were gettin' their kicks
Boy, I beg your pardon, I was gettin' mine