Levon Helm's Thoughts About The Last Waltz Are A Harsh Reality Check
YouTube / bluearmyfr1112
This Film Should Be Played Loud!
Every thing about this night was otherworldly. The performance was held on Thanksgiving day in 1976 at the Winterland Ballroom in San Francisco, CA. The show was publicized as The Band's farewell show. The Canadian- American rock group was joined by more than a dozen of their closest musician pals.  Martin Scorsese filmed the show and the production has been named as the best music documentary of all time.
The Band was formed by 5 masterful musicians who's music brought together artists across nearly all genres. Levon Helm played drums, the mandolin, and lead vocals. Garth Hudson was on keyboards and sax. Rick Danko on violin, vocals, and bass. Richard Manuel manned the keyboards and percussion. One of the major songwriter's for The Band was guitarist Robbie Robertson, who would occasionally sing.
Thanksgiving Dinner for 5,000 Fans
Iconic music promoter Bill Graham organized the fabulous event. Given that it was Thanksgiving day, 5,000 of the attendees were graciously served turkey dinners. The meal was followed by ballroom dancing and poetry readings by 6 poets.
The joining performers were: Ringo Starr, Eric Clapton, Muddy Waters, Emmylou Harris, Joni Mitchell, Van Morrison, Neil Diamond, Dr. John, Neil Young,  The Staple Singers, Paul Butterfield, and Ronnie Hawkins. All the stars had solos in addition to their group gig.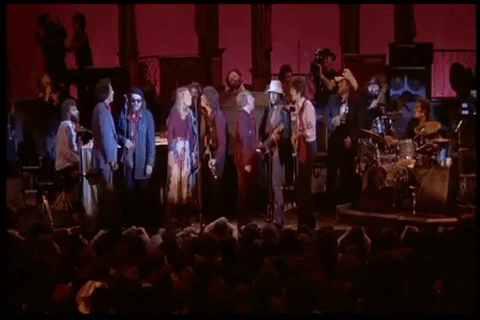 I Shall Be Released
In Levon Helm's 1993 autobiography This Wheel's On Fire, the drummer shed light on his perspective of the filming and organization of the Last Waltz.
Helm felt that director Martin Scorsese and The Band's guitarist/ songwriter, Robbie Robertson were unfair in their presentation of the night. Levon Helm stated that it is portrayed in the doc that Robbie is a front man singing powerful vocals, but his microphone was off the whole night (which was customary). The band-member is critical of the screen time Richard Manuel and Garth Hudson had- especially during their parts in "I Shall Be Released," where they are essentially ignored despite their major contributions.
The drummer summed up his thought by declaring that The Last Waltz was "the biggest F-in rip off that ever happened to The Band." Helm included in his statement that Manuel, Danko, and Hudson were never compensated for the home videos, DVDs, and soundtracks released by Warner Bros. following the release of The Last Waltz in 1978.  Kind of puts a damper on the phenomenal film, but the truth doesn't take away from the beautiful performances themselves.