A 19 Year Old Phil Collins Sings and Slays On The Drums- He Was Born To Do This
YouTube / mauriziocarita
Who You Lookin' at, Phil?
First of all, he has an entire head of hair. Second, he's tapping his fingers on the drums like a bongo player. Third, he sounds like an extraterrestrial angel. What else could possibly be missing from the Phil Collins dream? It's perfect.  Collins is 19 years old when he played a 1970 performance on Dutch TV, with his band Flaming Youth. He didn't sing too often in the pre-Genesis band, but he is the lead vocalist in "Space Child."  He's a natural in front of the camera. Collins makes the kind of eye contact that is so prolific you kind of feel a little awkward.
Ok, Phil… I see you.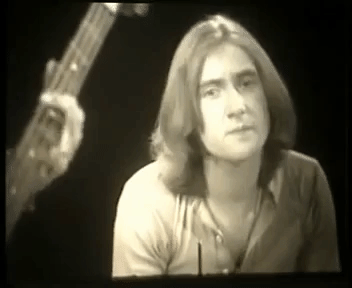 Listen With Your Ears Not Your Eyes
Well, it sounds like he's not playing the drums. But, he is tapping each index finger on a drum. A virtuoso! Jokes aside, he sounds so smooth and clear that you can easily identify him as Phil Collins- even with your eyes closed. Collins had started touring with Flaming youth in 1969, when they were originally named Hickory. Flaming Youth had minimal success and the guitarist Ronnie Caryl auditioned with drummer, Collins, for Genesis in 1970. Although Caryl didn't make it into the band, he was a guitarist in some of Collins' solo tour. Aww! Best friends literally forever. This is one of the earliest recordings found of Phil Collins singing and he sounds really like an angel.
I've been tried and scared beyond the limits of my faith
And I've been on the rack they call despair
And I have felt the universe quite alien and cold
And terror's icy fingers touch my hair