19 Year Old Session Guitarist Talks About His Dreams Before Super Stardom
YouTube / ITV Channel Television
From James to Jimmy
In 1963, Jimmy Page had already transitioned from starting out as "James" Page, his actual birth name. He was cooler now, you know what I mean. He was 19 and a session guitarist at this point. Jimmy's mind had already changed from wanting to be a "biochemist" to aspiring to be a visual artist.
The young kid was already working with the big boys  and was starting to be the subject of big boy interviews. ITV Channel Television sent their interviewer/ writer, Royston Ellis, to discuss the job of session guitarist with Jimmy. They opened up a conversation on the Channel Islands the Summer of 1963.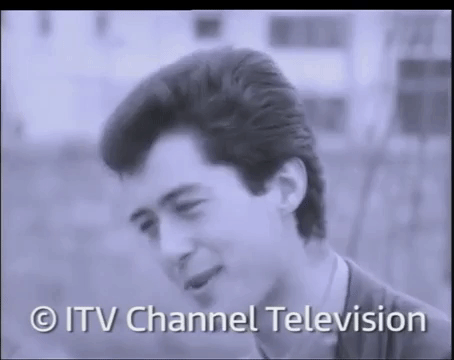 Just A Way to Fund His Art
It seems as though Jimmy Page has always been Jimmy Page. When he was interviewed in 1963 he had only been playing guitar "4 years" and had been a session guitarist for 18 months. Yet, he has the exact same posture and mannerisms as a 40 year old Jimmy Page. Could be obvious- cause he is the same person, but most teenagers are busy "faking the funk," trying to be older and more mature. Jimmy Page has never been fazed by that teenager mentality. He has always remained true to himself .  Royston Ellis asks the 19 year old  an obvious question but Page answers rather shockingly:
"What is it like working with some of the really big names of show business?"
"Disappointing," answers Page "Well, they don't come out how you expect them to be."
Hilariously ironic, given the fact that Jimmy Page would grow up to become among the biggest names across any genre of music. Good news is, no one has ever recalled working with the guitarist as "disappointing," to phrase in his own words.
Royston continues to probe, "What's your personal or professional ambition? Is it to be a guitarist all the time? Do you want to make your own records?"
"No, not necessarily. I'm very interested in art. I think I'd like to become an accomplished artist."
Well, we all know how that turned out…