Roy Orbison and All Star Choir Sing "Silent Night" On The Johnny Cash Christmas Special
YouTube / Roy Orbison
The Johnny Cash Christmas Special
An all-star choir of singers came together during 1977 for The Johnny Cash Christmas Special. The creme de la creme of the stage included Roy Orbison, Johnny Cash and June Carter, Jerry Lee Lewis, and Carl Perkins. The group stood in their pairings with Johnny Cash and his wife, June Carter, at the forefront. The iconic music couple lead the choir of stars in singing, "Silent Night." Roy Orbison and Carl Perkins stood beside each other sharing a microphone. The pair sang along with the seasonal Christmas song.
Silent night, holy night
All is calm, all is bright
Round yon Virgin, Mother, Mother and Child
Holy infant so tender and mild
Sleep in heavenly peace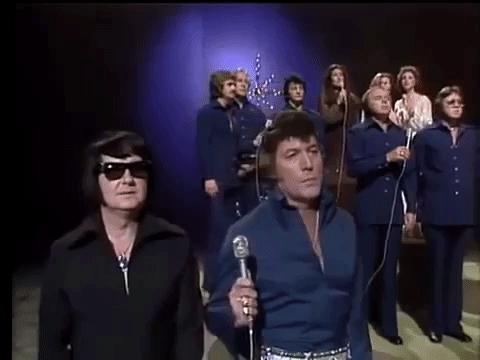 A Star Studded Night
On stage with hosts June Carter and Johnny Cash, was Jerry Lee Lewis. It's hard to not have some sort of desire to watch him jam out "Silent Night" on the piano. Beside him is Roy Clark- great in form. The Statler Brothers join in the singing farther back in the stage. Everyone sounds marvelous!
Johnny Cash had shared some of his favorite Christmas stories during the special. He recounted his favorite childhood memories and playing the guitar during his time in the military. There is an Elvis Presley tribute during the broadcast of the Christmas special. "This Train Is Bound for Glory," was dedicated to the missing member of the Million Dollar Quartet. The Johnny Cash Christmas Special is a memorable holiday broadcast and a rare recording of some of music's greatest performers.