Rick Danko Sang "I Shall Be Released" At Richard Manuel's Funeral- Everyone Joined
YoutTube / MrChrisLovesRock6195
This Is For Richard…
In an interview with Timothy White in 1989, Eric Clapton had said, "I was madly in love with Richard because we were going through a lot of the same difficulties…screwing around with drugs and drink…getting pretty crazy down deep…. He was finding it difficult to cope with his talent. I just identified so strongly with him. For me, he was the one I thought was the light of The Band…. There was something of the holy madman about Richard. He was raw. When he sang in that falsetto, the hair on my neck would stand up on end. Not many people can do that."
Manuel was born in Ontario, Canada and had a natural taking to multiple instruments- most notably the piano. His voice is also revered among the most memorable of his natural abilities. The singer could range from a soulful baritone to a fragile falsetto.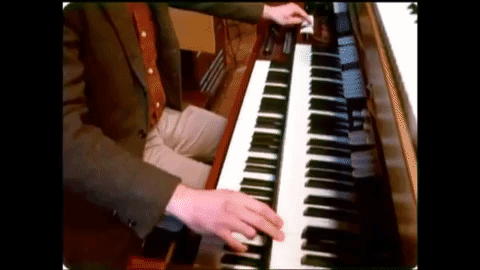 When Manuel became part of the Hawks in the early 1960s, members of The Band had unbeknownstly already formed their group. The Hawks included all of the members of The Band- Levon Helm on drums, Robbie Robertson on guitar, Rick Danko on bass, with Garth Hudson joining as a multi-instrumentalist. In 1965, the Hawks were a backing band for Sonny Boy Williamson- who referred the Canadian band to Bob Dylan. They toured with Dylan for most of 1966 through the US and Europe. They changed their name to The Band, once Dylan and their contemporaries referred to them simply as "the band."
In 1967, Dylan was in a motorcycle accident and decided to recover in Woodstock, NY. The group moved there and rented a pink house on 100 acres… the famed "Big Pink." They were retained by Dylan and with that incentive The Band was able to experiment with new music, eventually developing their country/ rock/ blues signature. This is when Richard Manuel mastered songwriting. 
The Band's debut album was Music From The Big Pink– released in 1968. This solidified the Canadians as one of the world's greatest bands. It was praised by every iconic composer and musician, becoming a must have in any true music lover's record collection. Richard Manuel's songwriting was largely discredited and penciled in with guitarist Robbie Robertson's name. To which Levon Helm had feuded over for decades. Helm had stated:
"I went on to express [to Robertson] my belief in creating music with input from everyone and reminded him that all the hot ideas from basic song concepts to the mixing and sequencing of our record, were not always exclusively his. "
The Band shot to success in the 1970s and retired rather early with their farewell concert, The Last Waltz, in 1976. By 1978, the group had disbanded after managerial feuding between members  According to Helm, Manuel started drinking 8 bottles of Grand Marnier per day on top of a growing drug addiction (cocaine/ heroin).
Manuel entered rehab after moving into bandmate Garth Hudson's Malibu ranch in the early 1980s.Manuel was sober for sometime, contributing to music with Willie Nelson, The Beach Boys, and Bonnie Raitt. He even took part in The Band's short reformation in Woodstock (1984).
By 1985, Manuel was playing shows but was in a serious condition between alcohol and drugs. On March 4th of that year, Manuel had committed suicide in the bathroom of the Cheek to Cheek Lounge in Florida. Rick Danko, Levon Helm, and Manuel's wife found his body. Danko and Helm untied him and brought him down from the curtain rod.
Rick Danko sang one of Manuel's most famed covers, "I Shall Be Released." You can hear the entire funeral service sing along with him here. "I wasn't really planning on doing this but perhaps you could all help with the choruses… this is for Richard," Danko says before the organ starts to play…
"God Bless You Richard," Rick Danko had concluded.