Norwegian Covered David Bowie Inside A 949 Year Old Cathedral
YouTube / Warriors&Weirdos
Nidaros Cathedral
Norway is full of beauty. Beautiful nature, beautiful architecture, and beautiful music. Norwegian singer Aurora recently brought even more beauty to David Bowie's "Life On Mars," and absolutely left everyone just blown away. Her voice was ethereal- totally alien like. The sound appropriately worked on the celestial song.
Aurora performed in late 2017 at the Nidaros Cathedral- better known as Nidarodomen, in Trondheim, Norway. The lighting and staging were perfectly suited for the vibe of the music. You're taken away to a different world between the ambiance of the 949 year old cathedral and Aurora's alien voice.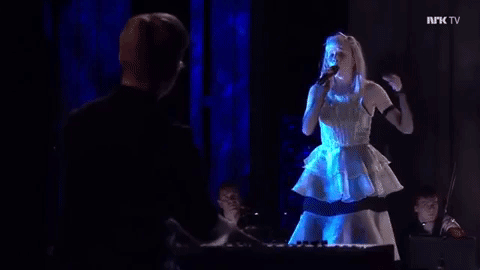 Life On Mars
David Bowie released "Life On Mars," on Hunky Dory in 1971. The track charted at #3 in the UK and #12 in the US.  It has been covered countless times and is one of Bowie's most recognizable songs. The track delves into life's complexities, touching on the existentialism of living. Recently, Norwegian singer Aurora covered the song and made it into something so heart-felt and heart-delt, just as was intended.
She says before her performance in the Nidarodomen:
"This is a beautiful beautiful song. Its not mine, but I wish it was mine. Maybe it's everyones song."
David Bowie would certainly be proud. Not only is Aurora extremely talented but she shares the same avante garde approach to just about everything- the way that Bowie did. Her sense of art and style seem to meet at the same place and produce a gorgeous take on "Life On Mars." Listen for yourself as she reaches insane notes…