A Stripped Down "In The Air Tonight" For 100K Live Aid Fans Is Superb
YouTube / Live Aid
No Drum Fill
And believe it or not… it wasn't necessary. This is just Phil Collins and a piano performing "In The Air Tonight," in front of 100 thousand Live Aid fans. The Brit played in America at the John F. Kennedy Stadium in Philadelphia, Pennsylvania. Earlier that day he had flown via helicopter from Wembley Stadium to a London airport, and boarded a concorde jet to America. That's some dedication.
The Live Aid performances were broadcasted in 1985 by one of the largest satellite link-ups of all time. Over 40% of the world's population watched the concerts. The shows were organized by Sir Bob Geldof and Midge Ure in attempts to alleviate the famine in Ethiopia. The pressure was certainly laid on thick. Phil Collins felt at least a tiny bit nervous in his "In The Air Tonight" performance.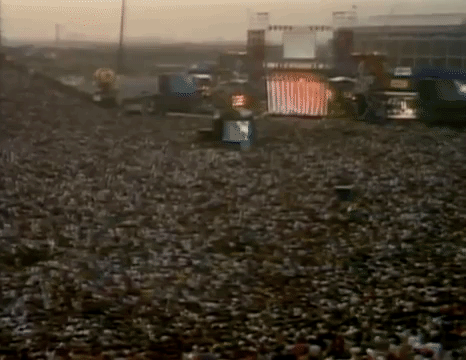 Collins is rock royalty. He has a tremendous talent but his spot in rock's royal family might be secured as the King of break up music. Arguable, yes- but "In The Air Tonight" is a firm reason why… along with many other heartbreak hits. You would think that in a packed arena of 100 thousand attendees, Collins would definitely smash out that historical drum fill.
No. He got all those fans to clap in unison to a totally stripped down version of the song- just Phil and a piano.
"Good evening the world! I was in England this afternoon- funny ol' world in it? This is the other song I know on the piano," Collins greeted the Kennedy Stadium.
The stripped down "In The Air Tonight," is a great showcase of how beautiful the jam is without the distraction of the drum fill. That piece of the song is so iconic that it's hard to sit back and enjoy it without the anticipation of the 3:32 mark. Phill Collins nailed it, just watch his emotion.
Phil Collins was the only performer at Live Aid to play both stadiums. You go, Phil.